Radlogin version 4
RADIUS test and monitoring client
For Windows, FreeBSD, Sparc Solaris and Linux platforms.
RADIUS test client is an easy to use tool to simulate, debug and monitor RADIUS and Network Access Servers (NAS).
Simulate RADIUS Authentication, Accounting and CoA/Disconnect requests for multiple devices and usage scenarios. User defined fields, counter variables, random data and pseudo session identifiers provide flexibility whether you need to simulate just one request or perform load testing with millions.
Packet decoder feature enables raw RADIUS attribute packet information from your NAS or RADIUS server to be validated and decoded into an easy to read display or stored in a profile for later replay.
Monitor hundreds of RADIUS servers, keep uptime statistics and send email/SMS pager notifications should a server become unreachable.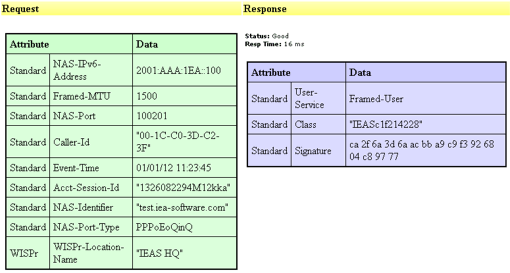 Radlogin v4 features include
Support for RFC5176 Disconnect and CoA messages
Best of all worlds, send RADIUS queries from the command line, web based interface or web service API
Send test authentication and accounting requests
User defined fields, built-in counters, random variables, addresses and session ids
Comprehensive data dictionary supporting over eighty vendors
IPv6 transport and attributes
Support for 16-bit, 32-bit VSA formats, tunnel encryption, large attribute fragmentation, nested TLVs and extension attributes
Validating RADIUS packet decoder
Attribute profiles allow you to store multiple sets of authentication or accounting requests for various purposes
EAP packet decoding
Server monitoring with email notification and uptime statistics
Configurable date/time formatting
Asterisk CDR accounting proxy listener
Available at no charge for Windows (XP,Win7,Win10,2000-2019), Linux, FreeBSD and Sparc Solaris platforms

Downloading instructions
Choose your platform to begin downloading the RADIUS test client. You do not need to request a license key to use this software.