Comprehensive Billing, Authentication and Customer Care Solution
For Microsoft Windows and Linux platforms
Version 6 Standard, HotSpot, Professional and Enterprise Editions Now Available!
IEA Software is a leader in wired and wireless service provider billing, customer management and provisioning. With thousands of installations around the globe, Emerald and RadiusNT/X manage millions of subscribers worldwide.
Product Summary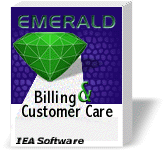 Emerald is a centrally administered subscriber management software solution for ISPs. Perpetual licensing and ability to host Emerald suite onsite or your preferred hosting provider increases flexibility while providing significant cost savings over time.
Multi-tenant capability enables multiple organizations, partners, resellers and outsourcing managed within a single instance. Each organization and venue is customizable with unique branding, service plans, bill presentment, CC/EFT processors and reporting.
As an integrated solution Emerald provides a range of services including: billing, CRM, appointment scheduling, inventory, document storage, tower info, access gateway, customer portal, sign-up, prepaid cards, notification, syslog, usage rating, IPAM and service monitoring. Concurrently systems integration via RADIUS/AAA, external system provisioning, data synchronization and API reduces duplication while minimizing management costs.
Billing Features
Billing automation, Email + SMS notification and customer portal work together to save time and increase productivity. Integrated scheduling automates invoice and statement creation, electronic bill delivery and CC/EFT autopay transactions.
Recurring, prepaid, postpaid, POS and pay as you go cover full range of customers from long term business and residential subscriptions to one time voucher and hotspot customers.
Timelines simplify scheduling of future and retroactive service changes such as service upgrades and temporary suspension of service. Error prone and confusing manual and automatic billing adjustments are completely avoided.
Market tags are an exclusive, easy to use rules system for applying wide ranging discounting and pricing strategies to attract and retain customers. Examples of features enabled via market tags include promotional codes, early termination fees, loyalty discounting, referral bonus, introductory and seasonal pricing, multi-product, bulk rate, pay period and regional discounting.
World wide flexible taxation includes price inclusive, exemptions, piggyback, ceilings & floors, static rate and destination rate. Tax rate file upload simplifies creation and update of data provided by taxing authorities.
Usage rating of bandwidth consumption, international VoIP, traffic flows and custom external data sources support both real-time and postpaid usage billing.
Save time with POS invoices, barcode & card swipe HID devices and streamlined check posting.
Security & Availability
Emerald provides seamless application and database redundancy. Stateless design maintains operator sessions and data during application failover. Database redundancy via log shipping, mirroring and clustering technologies is supported in respective read only and read/write modes.
Access controls manage which group of subscribers are accessible to operators, what may be viewed, changed or removed and availability of selections such as special service plans and discounts.
Certificate based multifactor authentication resists phishing threats and addresses security compliance while integrated key management simplifies deployment.
Protect customers by requiring customer provided PIN before granting CSRs access to protected accounts. Customers are notified of address and password changes alerting them to potentially unauthorized account activity.
Reduce risk thru network range and time of day operator access restrictions, detailed change logging, tokenization, field encryption and masking.
PAM and Active Directory integration on Linux and Windows platforms for centralized operator authentication.
Account Management

Automated caller lookup and a range of flexible account search options with operator customizable fields and search results help to rapidly locate subscriber records.
Consolidated subscriber status display integrating service affecting events, monitoring, billing, open tickets and provisioning status give CSRs an immediate summary of account status.
Attach customer site photos, contracts, purchase orders and more with account centric data storage.
Integrated outage management tracks progress of outages from detection to resolution. Alert CSR to possibility of a subscriber being affected by an outage and link tickets to outages so that all outage related tickets are updated together.
Inventory + IPAM
Centrally manage inventory throughout your organization. Track item location/status, historical trends and reorder reporting ensure necessary items remain stocked.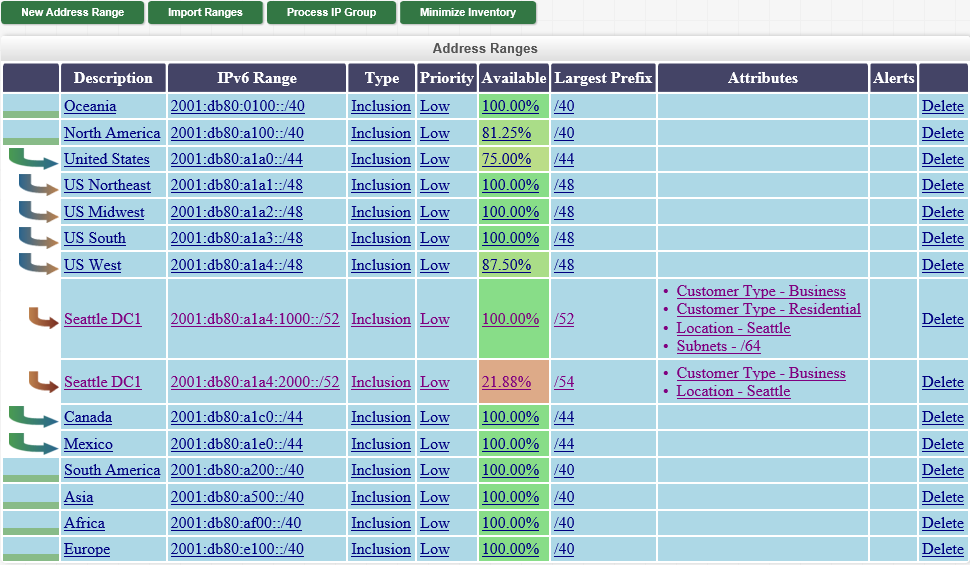 Streamline workflow with timesaving features: Receiving system offers automatic data file upload and manual tabular entry of new inventory. Operator carts rapidly select and group items simplifying mass changes to status and location of inventory.
Track assignment of inventory to customers as required to provide service. Ensure assigned items are returned upon termination of service.
POS integration for selling physical items from inventory.
IPAM manages network number resources (e.g. IPv4, IPv6, VoIP DIDs) to document and monitor utilization while ensuring consistency. Number resources including IPs and subnets are automatically allocated from IPAM to inventory for service assignment as required to maintain stocking level.
Reporting
Keep informed and identify important trends with over 50 included reports covering system, accounts, billing, CRM, inventory, AAA and more. Reports are viewable on demand or regularly delivered to your email inbox.
Customize, create and organize reports suited to your specific requirements or take advantage of our custom report writing service.
Control operator access to reports while automatically limiting reporting scope to only those accounts operators are authorized.
Export tabular data in a variety of common data formats for offline analysis via quick reports.
Optional support for legacy crystal reports on Windows platform.
UI Customization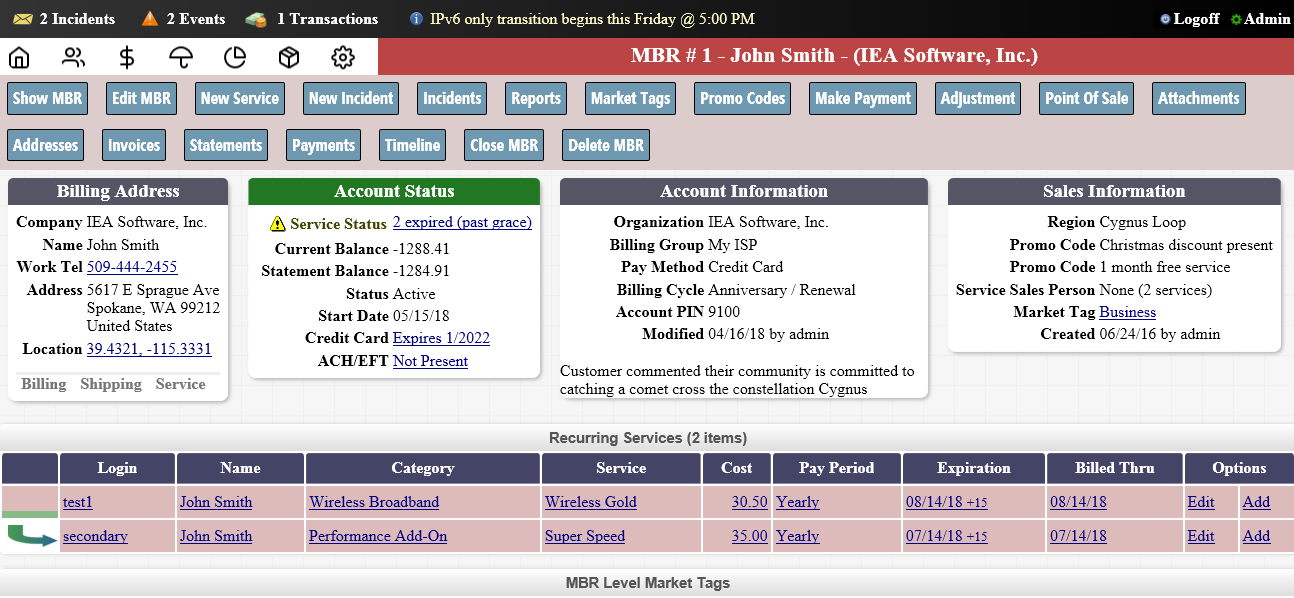 Tailor each of your venues and organizations with custom branding, color schemes or completely overhaul look and feel of operator and customer portals.
Flexible rules based theme selection by any combination of time of day, special occasions, domain, IP range, browser type and customer group.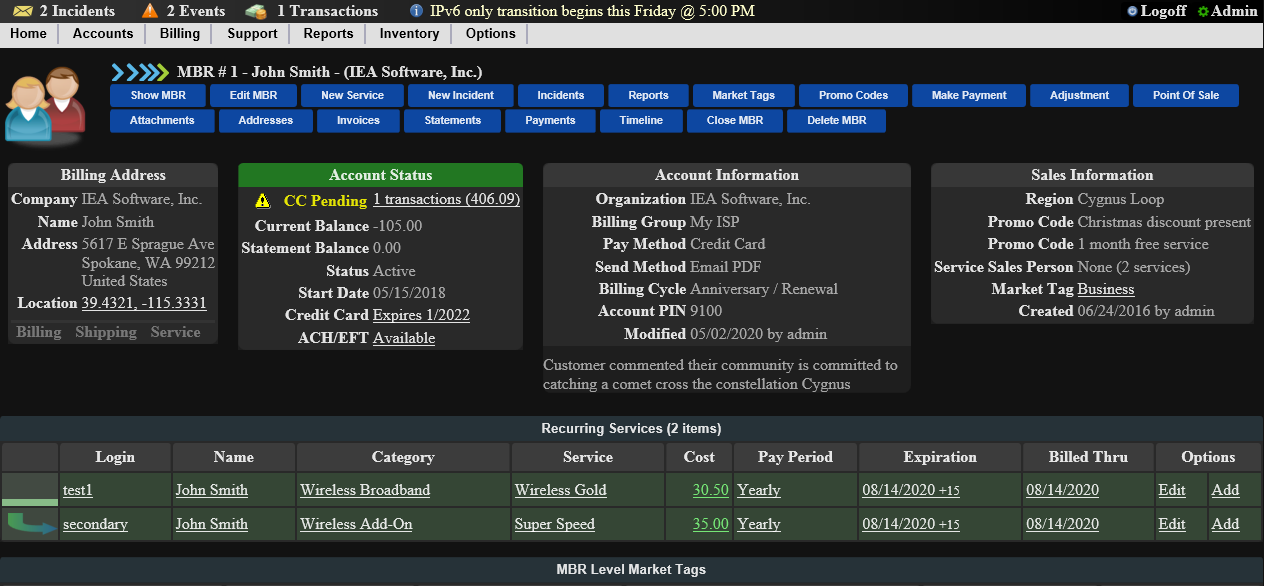 Customize Emerald to suite each operators job function and preferences. Over a thousand fields throughout Emerald may be displayed or hidden. Included dark mode and tablet optimized themes provide a variety of UI choices while serving as templates for further customization. Operator dashboards offer customized overview of system status, trends and work items.
Prepaid Vouchers
Profile based generation and data export simplifies resupply of new prepaid batches.
Deployment flexibility including vouchers as cash equivalent, recharge an existing account and time limited direct network access.
Customizable sequence algorithms support all formatting requirements.
Vouchers are isolated from other organizations limiting validity to intended venues.
Ticketing & Appointment Scheduling
Customize each ticket type with unique data fields and process steps. Store hardware and software data with technical assistance requests, track each step of new service installation or gauge customer interest within a sales ticket.
Ensure no ticket slips thru the cracks with operator dashboards, status bar alerts and extensive email and SMS notifications. Operators are notified as new tickets are assigned, escalated or changed as well as receiving ongoing reminders of approaching due dates and upcoming appointments.
Automatically assign tickets and appointments to those best able to address customer inquiries thru fair and unfair allocation strategies, distance aware assignment, per operator limits, overflow assignment and escalations.
Customers are able to securely submit new tickets directly from customer portal saving time while meeting customer authentication requirements.
Calendar integration automatically updates your favorite calendaring system with all of your newly assigned appointments.
Appointment manager streamlines manager level review and distribution of upcoming appointments to staff. Easily assign or customize automatic work assignments to most efficiently meet customer demand.
AAA, Service Provisioning & API
Included RADIUS/AAA unifies your organizations access servers, subscriber, usage and billing data to seamlessly provide service and track consumption. No additional software to install or integrate.
RADIUS dynamic session management reacts in real time to service affecting changes such as a service upgrade or customer payment.
Maximize availability, RadiusNT/X continues to provide uninterrupted service during short term outages even while all primary and backup databases are unavailable. Deploy multiple RADIUS servers for redundancy.
RADIUS features include proxy and roaming, real-time rating, attribute filtering, EAP/802.1x, concurrency enforcement and more.
Push synchronization for direct and custom integrations continuously notify external systems of changes to subscriber data and status. Any stored data may be synchronized to a custom external system with minimal development effort via quick sync.
Programmatically download data, run reports, create and manage subscribers including payments, invoicing, ticketing, document upload, inventory management and more via Emerald API.
Geography & Site Management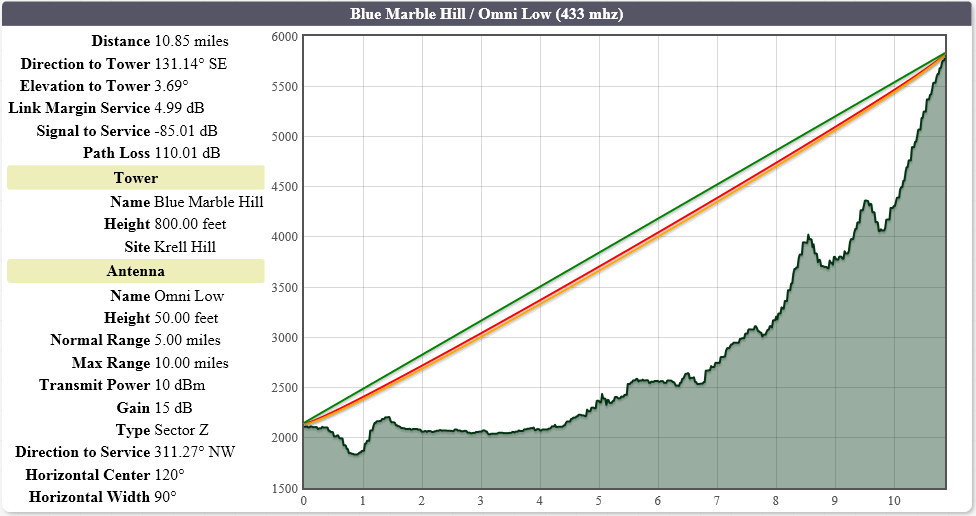 Geocoding and geographic data provide a range of location services. Determine destination tax boundaries, FCC broadband subscriptions reporting, point-to-point RF propagation modeling, appointment optimization, location specific service pricing and annotating address records from geographic data.
Many popular geocoding services are supported. Includes geographic datasets for world wide elevations and US census. Additional datasets may be converted and imported from industry standard shapefiles.
Tower, antenna and site management including site location, photos, documentation and radio properties.
Customer Account Center
Account center self-management portal places customers in control saving time while increasing customer satisfaction.
Billing related tasks offered to customers include current account status, invoice, payment and statement histories, one time payments, setting up recurring automatic payment, purchase of time/data blocks and account recharge from pre-paid voucher.
Other tasks include viewing upcoming appointments, ticket management, password change, service upgrade and downgrade, add and cancel services, promotional codes, chart data consumption, change of address and notification preferences.
Manage the customer experience thru branding, UI customization and extensive suite of access controls.
Service and Flow Monitoring
Gain insights into health of subscriber connections including latency, packet loss, signal quality, power, noise floor, bandwidth utilization and more. CSRs are automatically alerted to potentially service affecting conditions while accessing subscriber record. Proactive operator notification via dashboard, reporting, Email and SMS help maintain customer satisfaction.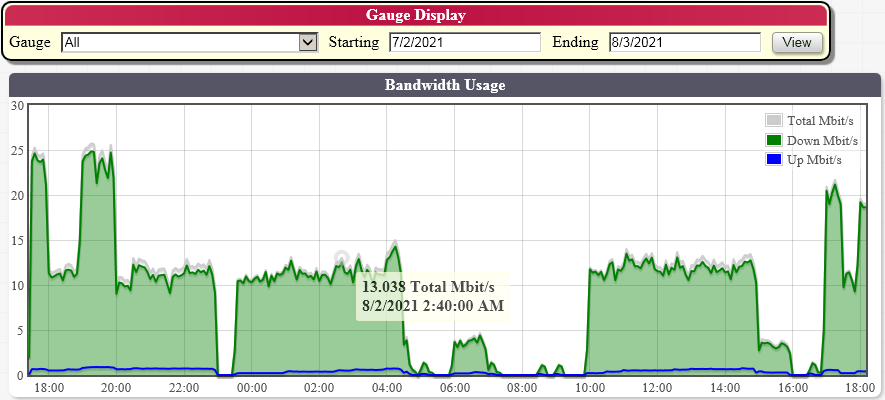 Monitoring protocols include ICMP, SNMP, NetFlow/IPFIX and externally provided data.
ICMP - Records latency, packet loss and jitter data. Precomputed transmission plan ensures predictable cadence for reliable data collection.
SNMP - Records ranged and counter parameters from customer equipment. Data discovery tool and included MIBs from many popular vendors simplify collection. Request coalescing and concurrent processing of hundreds of in-flight requests ensures scalable operation.
NetFlow/IPFIX - Records bandwidth consumption sliced by predetermined networks and protocols. For example track subscriber Internet usage separately from local consumption for VoIP and IPTV services. Included EmerNet collector supports >1M flows/sec on commodity hardware.
Chart data over time to discover trends and assist in troubleshooting.
Email & SMS Messaging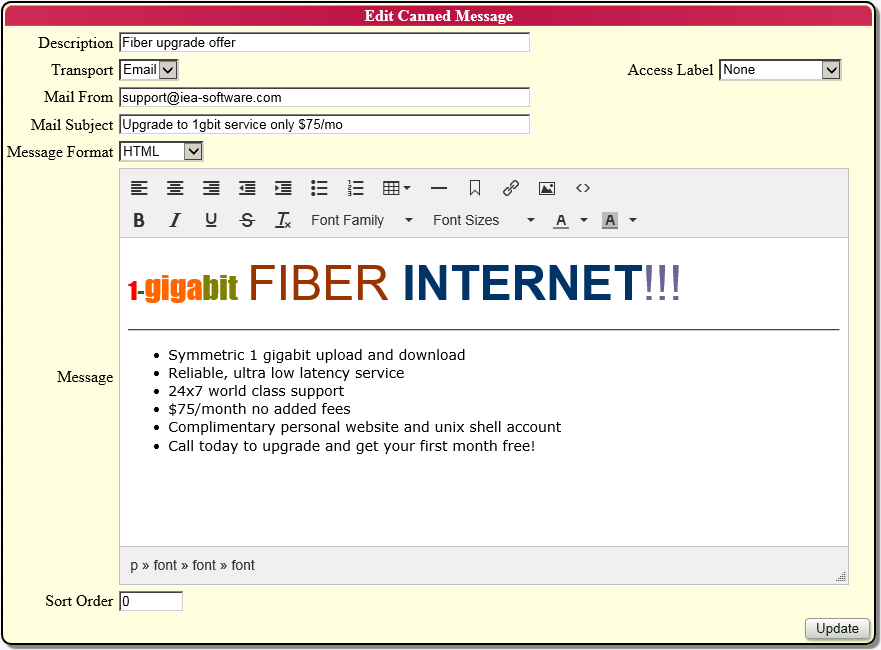 Keep customers informed of new offers, developments and service changes thru Email and SMS bulk messaging. Stored account filters and boilerplate templates simplify management and distribution of important announcements to your customers.
Notification system provides automatic notification to both operators and customers as important situations arise.
Operators are notified of action items such as newly assigned tickets and inventory restocking alerts. Other notifications include receiving reports to your inbox on an ongoing basis and problem notification for system scheduled tasks and service monitoring.
Customer notifications include billing related items such as service expiration, balance due, new invoice or statement, credit card expiry, payment receipts and failed transaction attempts. Also included new customer welcome message, approaching time and data consumption limit warnings, notification of ticket status change and scheduled appointment reminders.
Additional Resources
System Requirements
Windows 2000-2022, XP-11 or x64 Linux
1GB available RAM or greater
10GB or greater disk space
HTML5 / CSS3 compliant web browser
Emerald runs with the relational databases listed below. You need to have a working knowledge of your database. Please use the following guidelines:
Microsoft SQL Server 2000-2022
Oracle 10g or later (TBA)
Downloading Instructions
Please visit the evaluation center to obtain an Emerald evaluation license key. You must have a valid license key to use Emerald. For your convenience Emerald is available for download here: