Previous version
This page provides information about a prior version of Emerald. For information about current version please click here

Colocation and Application Hosting
The Emerald Management suite of applications provides several core benefits for server colocation and application hosting providers (ASPs).
Automated Recurring Billing
Automatic invoice and statement generation combined with Credit Card and EFT auto pay, email bill delivery and postal mailing enables easy to manage recurring billing with low administrative overhead. Additionally Emerald supports a wide array of billing related features such as late payment fees, setup fees, pay period discounts, introductory offers, complex taxes, account aging, billing preview and automated proration.
Usage Rating & Billing
Many colocation service providers are faced with the problem of billing for network usage of physical and virtual servers they host on behalf of their customers. While it is generally a relatively simple matter to collect byte counts from routers and ethernet switches this approach often does not provide the granular results necessary for billing purposes. Some reasons for this are considerations for local traffic between servers, local broadcast traffic and layer two encapsulation. It may also be desirable to bill based on the usage of specific ports or protocols such as http and https while excluding traffic between local subnets.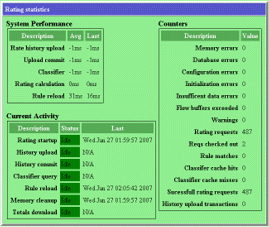 The Emerald suite includes a real-time network traffic rating system (EmerNet) capable of classifying and rating ip traffic flows in near real-time. EmerNet works in one of two modes. It can accept Cisco NetFlow exports from a Cisco router or netflow compliant collection probe. Alternately EmerNet can passively collect traffic flows directly from ethernet segments by configuring a mirror/monitor port at the ethernet switch.
The Emerald rating system enables a wide array of possible network billing options. Some examples of these are shown below:
Traffic based on source and destination network

$1.00 / GB for Internet traffic
$.25 / GB for private WAN traffic
$0 for local traffic

Dynamic price changes based on total aggregate usage

First 50 / GB included in plan
50-100 GB at $1.00/GB, 100+ GB @ .50/GB, 1000+ GB @ .25/GB.

Protocol specific rates

1.00/MB for local SMTP traffic
$10/MB for Internet HTTPS traffic
Custom Application Rating
Application service providers are often faced with the problem of billing consumers for an app specific metric of usage. The Emerald 5 rating system was designed to allow rating of arbitrary data throughout the time and data domains. Emeralds rating system breaks down the process into four distinct areas configured through the Emerald rating UI.
Acquiring usage information - Emerald collects usage data from virtually any data source accessible via an ODBC compliant database driver.
Usage Rating - After usage information is collected costs are calculated based on defined rating rules. For time based rates emerald supports time of day, day of week and holiday rating allowing access charges to vary based on off-peak vs on-peak hours. The system can use unique information within each usage record to provide conditional pricing. For example an ASP selling access to a set of maps may charge a different price based on the level of detail provided with each map.
Process Marking - Several options are available for marking usage datasets as having been processed. Emerald supports both a batch level and record level tagging scheme with the ability to record rated cost and rule match status on a per-record basis. Transactions used throughout the entire rating process ensure accurate, consistent results.
Trouble Ticketing / CRM features
Emeralds "Incident" system provides a central source for the management of customer support requests, tracking of time and sales related activities. Group based auto-assignment enables balanced distribution of new support tickets to the pool of relevant CSRs. Incident custom data fields and full text searching allow incident specific information to be recorded and recalled in the future to assist in resolving similar inquiries in the future. Due date and escalation notifications provide CSRs and managers with email reminders of important incidents still needing attention.
The Emerald customer center empowers customers by providing them with the ability to review their account status, billing history, usage history, post real-time credit card payments and open new support incidents.
Please see the Emerald product page for a complete list of features.